Appleland Fun Center is excited to announce the addition of their new Tactical Laser Tag course.
Inspired by the 1977 Star Wars movie, laser tag was created in 1984 under the name of Photon.  Since that time, the game has grown in popularity as a party option and a great recreational activity.   Fast forward to 2022 and the technology has made a significant difference in the user experience when playing laser tag.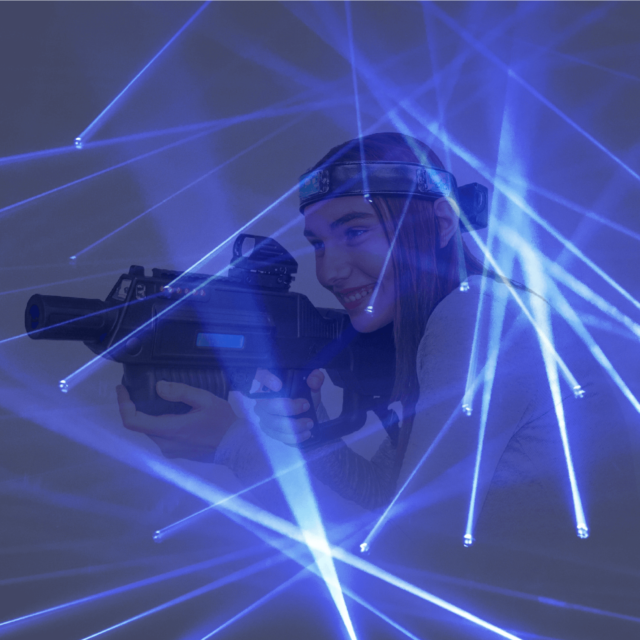 Appleland has secured the top of the line Battle Company Equipment which includes, Bluetooth headset communication, eye safe lasers, vibration feedback,  visual health indicator,  powered scope, and 600+ foot range indoors and out.
Additionally, the high tech tactical equipment offers presets for  that include a  Battle Rifle, Burst Rifle, SMG, Heavy Machine Gun, Shot Gun, Sniper, Battle Cannon, and Assault Laser.   Available game modes are Free for All, Team Battle, VIP, and the widely popular INFECTION.  This gives players an incredible variety of game formats and styles to enjoy.
Battle Company's innovations in laser tag has raised the bar in the laser tag industry. Our sleek futuristic/ video game inspired designs makes the equipment some of the best looking units available. With equipment that appeals to every age group Battle Company is an all-in-one solution for live gaming.   Battle Company equipment specializes in both indoor and outdoor play and has quickly becoming the premier choice for live action gaming around the world.
Check out Tactical Laser Tag Promo Clip
Laser Tag at Appleland is a great addition as it provides a healthy, fun, safe activity to all of Frederick County.
You can book a private party at Party Packages – Appleland Fun Center
There is also the option for open play every Friday, Saturday, and Sunday at Appleland Fun Center located at 4490 Valley Pike in Stephens City Virginia.  Appleland Fun Center is a 100+ acre complex featuring an executive golf course, driving range, mini-golf, batting cages, gel-blaster games, and of course… Tactical Laser Tag.